Our Favorite Places
To advocate for, rescue, protect, and defend our God-given equine
from abuse and neglect in Tennessee. Sue, Larry, & Megan volunteered to do all what we could for this facility that treats, cares for, and rehabilitates horses that are given up or rescued from neglect. Our mornings were spent cleaning stalls, walking these beautiful horses, grooming them, mending fences, and giving them the love they that they so deserve.
To provide a good quality of life for homeless Golden Retrievers. To educate the public in responsible dog ownership. To reduce the abuse and neglect of unwanted Golden Retrievers through rehabilitation and adoption.
For several years we have given ourselves, our time, and our home for these incredible loving pets. In return, we received immense joy, love, and happiness in return that words cannot express. We began with Dusty (pictured on the right) and until he succumbed to a brain tumor, he was our best friend for four wonderful years. Yet he came to us after spending the first few years of his life living in a garage. Since then we adopted Anne, who was rescued from an illegal puppy mill where she spent four years have littler of puppies one right after the other and her life was spent in a 3' by 4' dirt run. She is so emotionally bruised that even now after two years she continues to struggle with being socialized. Most recently we fostered a pregnant Golden named Penny. We were there to witness 10 new lives being brought into the world. We helped our little mother care for the puppies. After 8-weeks she said goodbye to her family and was adopted. We continued to care for the puppies until they too all found loving homes. (see puppy picture on right after their first bath)
Fun Places to See
This is our neighbor's restaurant when we lived in Knoxville. Larry designed and still maintains their website. Check it out!
Links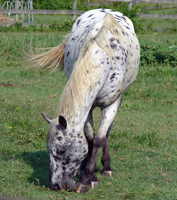 One of our friends at Horse Haven!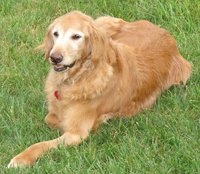 Dusty - from TVGRR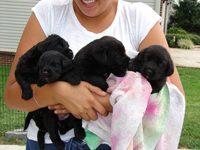 Some of the Puppies